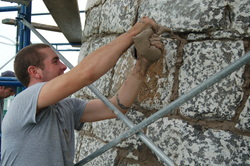 NATURAL & HISTORIC MORTARS
In Historic Restoration work, using "like for like" materials is a guiding principle, that helps to assure the compatibility of new repair, repointing and rebuilding materials with the old, and preserves the building's historic integrity. The restoration of the Pemaquid Point Lighthouse in Maine (photo, left) exemplifies this ideal; new Natural Cement mortar was used for selective repointing, providing an exact match to the original early 19th Century materials.
Edison Coatings, Inc. is the only North American source for ALL of the available major historic binders:
Lime Putty, Hydrated Lime, Natural Hydraulic Lime, Natural Cement, Roman Cement and Portland Cement/Lime. We routinely prepare custom, authentic historic mortars for a wide variety of applications of all sizes as well as offering pure, natural historic binders for on-site matching by skilled tradespeople.

We can work from your existing specifications, mortar analysis or recipe or we can analyze and match your mortar from provided samples. Our custom mortars typically include both custom blended aggregates to match original size, color, shape and composition as closely as possible, and historically accurate binders to match original composition and performance.
---
---
WHERE DO YOU BEGIN?
The Mortar Selection Decision Tree

For most projects, the place to start is with an accurate analysis of the original materials. The most useful analyses will employ Thin-Section Microscopy and Chemical Analysis (ASTM C1324). Microscopy is used to identify mortar components and chemical analysis quantifies their proportions and separates out the sand so it can be matched.

Evaluate the original mortar. Did it perform well?
If so, replication may be the best approach. Are there basic flaws (e.g., oversanded, undersanded, poorly graded, over-pigmented) that should be corrected? If simple corrections will allow the use of what is otherwise a near-replication mortar, this is often the best approach.

Are the original materials available?
Historically, a wide variety of mortar-making materials were used. Many of these, or their modern near-equivalents, are still available today. Some are not. If they are available, it is usually better to use them, rather than substitute materials. If they are not, a performance-based analog should be formulated.

Will the original materials perform well as restoration
materials?
Conditions change over time, and materials that worked well in a new construction setting may not perform well in a restoration setting. Lime mortars, for example, worked well in foundations built from new brick or stone. But after 100 or more years of groundwater exposure, the salts absorbed by the masonry can prevent lime mortars from properly bonding. If the original materials will perform well, use them. If not, a performance-based analog can be formulated.

Need Help? Call Us! We have the knowledge,
authentic materials and experience to make your project a success!
1-800-341-6621